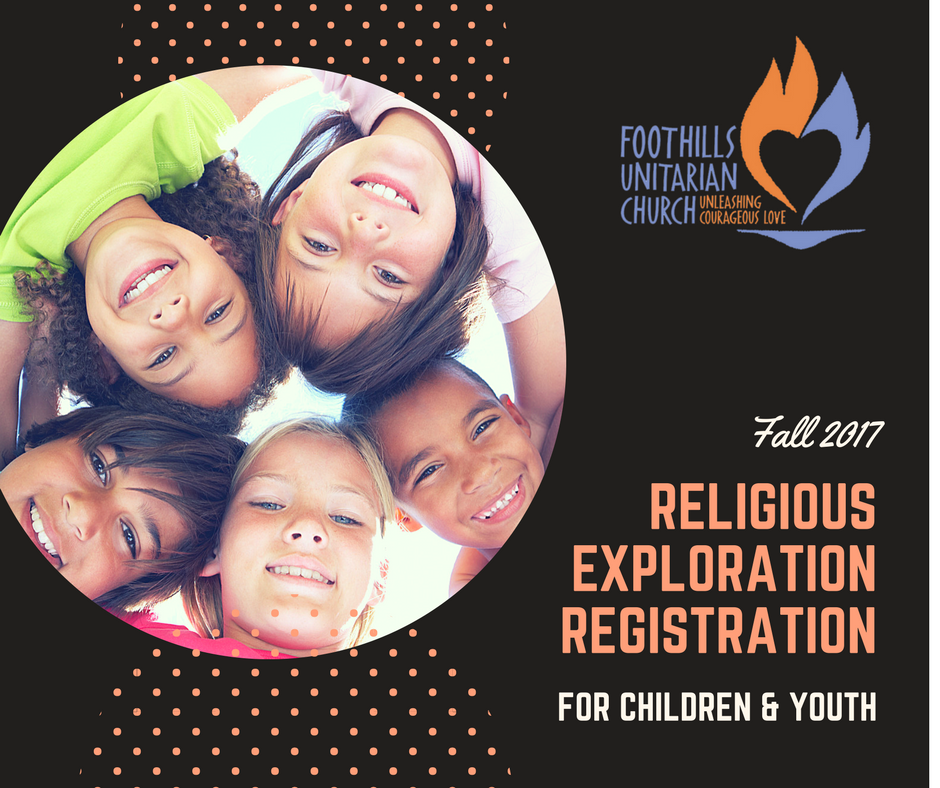 Register your Family for Religious Exploration Programs
August 21st - May 31st, 2018
We ask all parents/guardians to register their children for their appropriate classes.
We offer Religious Exploration Programs during our three Sunday Church Services
8:30 - 9:30 am - Nursery thru 4th grade
10:00 - 11:00 am - Nursery thru Middle School
11:30 - 12:30 pm - Nursery thru Middle School
11:00 - 12:30 pm - High School
Our Place in the Web of Life Class
September 30th - November 4th, 2017
Saturday September 30th 9:30 – 11:30 am
This highly-engaging, six-session class invites participants to look deeply at the consequences of their actions on people and the environment–close at home and then further away in communities across the nation and world. Offered by Foothills Climate Justice Ministry.
Joe Jencks In Concert
September 30th, 2017
$15
Foothills is excited to host a concert by Joe Jencks, a Fort Collins musical favorite, at the end of September. Tickets are $15 in advance and $20 at the door and are sure to sell out, so buy yours early!
Joe Jencks is an 18-year veteran of the international folk circuit, an award-winning songwriter, and celebrated vocalist based in Chicago. Merging conservatory training with his Irish roots and working- class upbringing, Joe delivers engaged musical narratives filled with heart, soul, groove and grit. Joe's newest CD Poets, Philosophers, Workers & Wanderers spent 7 consecutive weeks as the #1 CD on Sirius XM Radio's Americana Chart, and was also honored as the #1 CD, #1 Song, and #1 Artist on the North American FolkDJ Chart in May & June 2017. Having penned several #1 Folksongs including the ever-relevant Lady of The Harbor,, and Let Me Sing You A Song, Jencks is also co-founder of the harmony trio, Brother Sun. From Festivals like Falcon Ridge, Kerrville, Mariposa, and Old Songs, to venues like Lincoln Center and Carnegie Hall, Jencks has enthralled diverse audiences with his approachable style. Blending well-crafted instrumentals and vivid songwriting, Jencks serves it all up with a lyric baritone voice that has the edgy richness of a good sea-salt caramel.
Base Camp: The Starting Place for Newcomers (September)
October 1st - October 8th, 2017
Base Camp equips newcomers to connect into our church community, engage with our living theology, and find their place in our mission to unleash courageous love in Northern Colorado and beyond.
If you are a newcomer or are seeking a place to renew, Base Camp should be your first step.
Participation in all three sessions is recommended.
8th Grade OWL Parent Orientation
October 10th, 2017
The 8th Grade OWL Program Parent Orientation: Tuesday, October 10th, 6:00-8:00pm for the 2017-2018 Program. At least one parent is required to attend this orientation in order for you child to attend the OWL Classes. This comprehensive sexuality education program is a unique opportunity for our eighth graders to learn about all aspects of their sexuality: spiritual, physical, mental, and emotional. The program offers opportunities for youth to clarify their values and information to keep themselves emotionally and physically safe when making decisions about sexual activity.
Faith for the Unbeliever - Dialogue and Discovery Series
October 11th - November 1st, 2017
$0
A series of dialogue and discovery exploring the gifts and challenges of atheism and theism, and what it means to claim faith as distinct from belief. We'll be using the book Faith for the Unbeliever as a basis for our conversations - this book is short and easy to read, and ready to be checked out from the Foothills office, or can be purchased through the office or online (use Amazon Smile and pick Foothills!). Optional pizza dinner at 5:30pm and a break at 7pm for anyone who wants to leave for choir. Begins Wednesday, October 4.
We'l likely have a livestream conversation with the book's author, the Rev. Daniel Kanter in the 3rd or 4th session, so come with your questions!